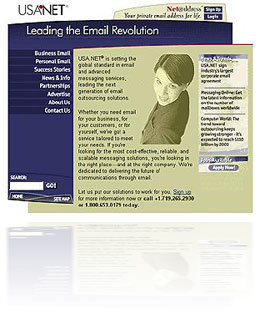 Today we released the new USA.NET website, designed by yours truly. I'm pretty happy with it. I initially set the vision for a fully flash-based, dynamic website. Flash today is not a dynamic tool, but using Macromedia's Generator server, we could theoretically produce a "dynamic offline" site, that could be refreshed as frequently as needed.
We pulled back from that initial vision. We're releasing a ColdFusion-based website, featuring Flash navigation and enhanced elements. I coded the dynamic update system that queries the database, develops a generation plan for Generator, and builds all 180 navigation panes and page headers in Flash, dynamically, in a few seconds. It also outputs JPGs and imagemaps for older browsers.
The look and feel is also my doing. Professional and modern. Check out the evolution of my design comps. So, not a bad site overall. And I've learned some important lessons:
Strong vision leadership is important, and I do this well. I set a direction at the start, and fought hard to see it through. Without that, the site would have quickly devolved into a committee-built frankenstein.
Developers have too much of a chokehold on everything. The clear lines of authority implied by corporate structure mean nothing if developers can put up technical obstacles, without fear of being challenged. It behooves me to keep increasing my technical development skills, to be able to confront them when they're being short-sighted. Mind you, I understand their plight: The goals they are measured against often run contrary to Marketing's goals.
There needs to be something else between corporate decision-makers at the top, and designers and developers at the bottom. Regular marketing executives are too far removed from the details of user experience, and too mired in old media, to act as the moderators between designers and developers. Some higher design authority must take charge.
So the need for a Usability Expert is clear, now. I attempted to be that person, but was never granted the authority to do this job. But now I know that that's the job I want.