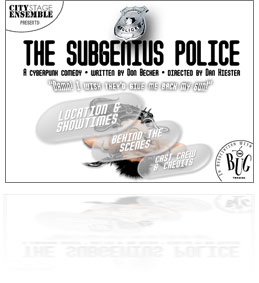 Tonight was the last showing of The Subgenius Police, a cyberpunk comedy, written by Don Becker.
What a show! I had the honor of helping out with projections, music, posters and the website. I got to participate closely in the rehearsal process.
This play is unique. First of all, "cyberpunk" is not a term usually associated with theatre. Yet somehow Don managed to carry through the strange "upbeat dystopia" of cyberpunk into live performance. The cast of characters itself is comedy… and Don Becker's writing is fast and furious, dizzying you with concepts as you laugh, and puzzle, and piss your pants. Don wrote at least two of the characters with specific actors in mind… and most of the cast were not professional actors, but everybody performed beautifully.
I hope that this show will be produced again soon, because I'll miss it. It was hilarious, beautiful, and exhilarating. After the show, my friend Peter Alexander treated the cast and crew to some live music, with his band The Damn Shambles. We had a little party in the basement where we rehearsed, and rocked out. Turns out that it was The Damn Shambles' last gig, so it was a double final hurray. What a night!