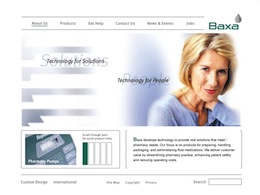 Conducted, with my friend Peter Alexander, a hardcore two-day Usability, Information Architecture and Design Training session for the marketing team at Baxa. Trying to distill everything in two days is always a high-adrenaline challenge, and I think it went very well. The designers at Baxa are a cool team, eager to learn, and I think they picked up imediately on a lot of what we had to offer. 
We had a good chuckle at some of their product names. They manufacture high-quality, reliable, sterile medical equipment like the "3-way oral port stopcock." There you go, I've said it, and my blog is now on every parental-control blacklist!
For Baxa, I also helped lead a Personas-and-Goals exercise, which helped elucidate a lot of debates and clarify the goals for different sections and tools of the site. I also delivered an information architecture review, and a sitemap.
We're reviewing their next set of comps, and will help them stay on course with spot-checks. I already like what we're seeing.