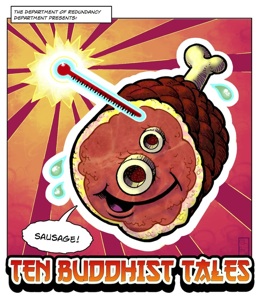 Behold: Sausage!
Wow. We've done it. We've opened our show. What a rush!
After a hell week that went surprisingly well, we had energy aplenty for opening. The cast was on fire, lots of friends and family in the audience, and the show rocked! It's 90 minutes of pure seat-of-your-pants craziness, both on-stage and off. I screwed up a couple of sound cues, but the actors kept right on going.
We're all exhausted. It will take me a few days to process the feeling. This is a big achievement for me, and for all of us.