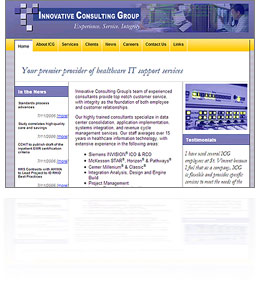 Just finished a quick, bare-bones, low-budget redesign and custom content-management system for Innovative Consulting Group. Another fun little project, using simple "good old" ASP and an MS Access back-end. A little bit of database-driven Flash, as well.
I am starting to really enjoy little low-tech projects like this one. The cutting edge is fun, but sometimes it's so refreshing to go back in time and slip into some old tried-and-true technologies. It's like a pair of shoes you haven't worn in a while: Unfamiliar, yet fitted.
I also love the challenge of delivering superior user experience on a shoestring budget. Applying all the lessons I've learned without the frills. The client was also a delight to work with. They knew what they wanted, and how to delegate the rest. A good relationship with one's client is priceless.