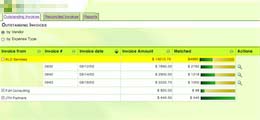 Did a one-week stint in Houston, Texas for a large international oil company, helping fix an internal accounting app. As is common with enterprise engagements, we were not only putting together a unified dashboard for a set of disparate and incompatible financial and accounting systems, but also walking the slick tightropes of high-flying politics. 
It was a quick intervention in a middle of a dense financial project. I was brought in late (post-requirements phase) but since the project was already starting to unravel, the client was ready for a semi-radical realignments of priorities.
I confined my work mostly to the UI, where I applied a whole heaping load of goal-directed thinking, and reduced the multi-screen app to a single screen with 3 tabs. I also noticed that speed was the big unvoiced issue with the application. Demos and training sessions were tense because of these dead moments of waiting for pages. Since the app was presenting results from batch-processing systems, I made the developer implement a quick and dirty caching system, that made the app nearly instantaneous. I also reorganized all data into a matrix, with a clear action column, as well as visual progress bars. Add to that a nice clean design in company colors, and the next demo was a raging success.
I've done my week in Houston, everybody's happy, I'm going home.