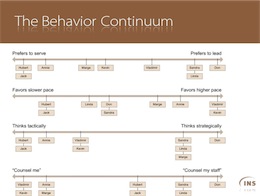 Delivered a series of Lovable Sharepoint training sessions for Breakthrough Management Group. BMG is an exciting company, that does what I do: Consult on process. They do it mostly with large industrial clients, where a little process can save a lot of money. I was out training their staff on the user-directed approach to SharePoint. We developed Personas and Goals, explored user-centered information architecture, developed an exquisitely goal-oriented site. 
The message of Lovable SharePoint really hit home at BMGi, where they are acutely aware of the pitfalls of over-engineering. I looked at their resource plan, their scale, and their pressing needs, and basically told them to turn most of SharePoint off, for now. We focused on a high-value, easy-adoption, community-driven approach, and solved some thorny issues with as little new technology as possible.
We had a blast. Over three training sessions, I saw hesitant and overwhelmed team members gain confidence, interest, and more than a glimmer in the eye about the changes we were planning. I left them excited, enthusiastic, and hard at work on this new approach. 
Then I started driving home in the worst snowstorm in over a decade. The one-hour trip from Longmont to Denver turned into eight hours stuck on the freeway. Still, it was a great day!