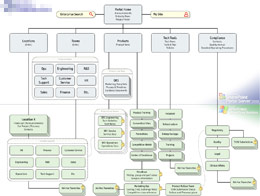 I've been sent to Los Angeles to help a CTO make a case, in one week, for a MOSS implementation. I approached the process with personas & goals, ethnographic interviews, and a usability-oriented review of their current systems. I also established a good rapport with the CTO, by listening to her business goals and inferring her personal goals. She wanted to shake things up, to streamline the bureaucratic machine while empowering the splinter groups, the internal startups that had developed in a vacuum of control. I can respect the wisdom of that approach, especially when dealing with the potential bureaucratic armageddon that can be unleashed with tools like SharePoint.
I applied my goal-directed approach to navigation, yielding a site map that provided a "Cathedral" area for corporate unity, and local, flexible "Bazaars" for the mavericks. We accommodated the security requirements of the compliance division, putting a key ally in our camp. In one week, we put together a solid plan, and the client invited me to help her present it to her boss.
It was a very quiet, subdued moment, after the chaos of trying to piece together a company in a few days. Just the company's president, my client, and myself. He appreciated the potential for a healthy balance of corporate types and entrepreneurs, as well as the value of our plan. His questions afterwards were related to the logistics of making it happen. The dialog was productive, good decisions were made.
I head back to Denver, with another feather in my cap. The local sales guy is amazed at how calm our client seems to be. It's not calm, dude. It's focus!